About Steven G. Toole
Practice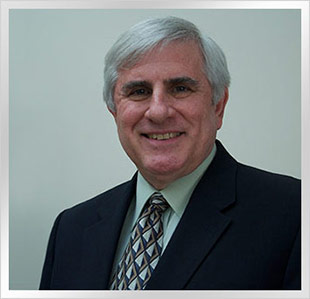 Steve Toole was admitted to practice in Washington in 1976. His practice is limited to personal injury litigation, mediation and arbitration. He received his BA degree from The Ohio State University in 1971 and his JD degree from the University of San Diego School of Law in 1975. He has lived and maintained a solo/small firm practice in Bellevue, Washington since 1983 where he became active in the East King County Bar Association and eventually served as its president in 1993. He has been married to his wife Christie for 33 years in April and has two great kids (although they would cringe at being referred to as "kids").
Positions Held
In 1991 Steve was elected to the Board of Governors of the Washington State Association for Justice (formerly WSTLA) and was its president in 2002-2003. He was elected to the Board of Governors of the Washington State Bar Association for a three-year term from 1993-1996 and served as its president in 2010-2011. He also served as president of the East King County Bar Association from 1992-1993. Most recently he was elected to a three-year term on the Executive Council of the National Conference of Bar Presidents (2011-2014) and served on the NCBP Diversity, Sponsorship and Program Committees. He also served as vice-president of the Washington State Bar Foundation. The Foundation is a 501(c)(3) public charity.
Mediation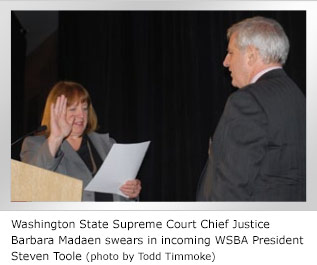 Steve Toole has been conducting mediations for over 15 years. He has completed formal mediation training through the Straus Institute at Pepperdine University School of Law and has attended numerous other Alternative Dispute Resolution CLE seminars and conferences. Steve conducts the typical half day and full day mediations but will also tailor the length and format of the mediation to suit the needs of the parties, including conducting telephone mediations.
As a mediator, Steve is regularly used by all the major insurance carriers and can provide references on both the plaintiff and defense side. He mediates all types of tort cases, including automobile, premises liability, professional negligence, employment discrimination and timber trespass. He has also mediated cases involving boundary disputes, breach of contracts and partnership dissolutions. If Steve is not familiar with a particular area of law, he will do the necessary research on his own time so that he can best be prepared to assist the parties in resolving their dispute. If the case does not get settled at the initial mediation hearing, Steve frequently continues working with the parties days and even weeks later, in a committed effort to do everything possible to try to resolve the matter.
Steve Toole has expanded his mediation practice go throughout the Puget Sound area, up to Bellingham.
Awards and Honors
Steven G. Toole has been selected numerous times as a Washington SuperLawyer, by Washington Law and Politics magazine; and has a 10.0 AVVO rating (their highest rating).
Awards & Honors
President's Award
Presented by the Washington State Trial Lawyers' Association for extraordinary commitment to protect the rights of injured citizens and improve the State's courts, leadership in judicial relations and legislative arenas, and tireless fundraising efforts.
Alvin Anderson Award
Presented by the Washington State Trial Lawyers' Association to a person who exhibits extraordinary effort and commitment in helping generate the economic resources necessary to enable WSTLA to promote and preserve the civil justice system.
"Super Lawyer"
by Washington Law & Politics magazine, multiple years
Professional Associations & Memberships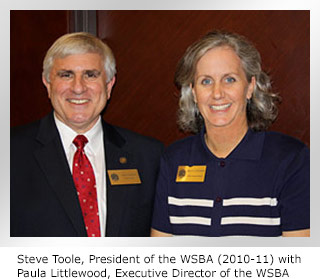 Washington State Bar Association
President, 2010-2011
President-elect, 2009-2010
Governor, 8th district, Board of Governors, 1993-1996
Member, BOG Alumni Group, 2002-2005
WSTLA/WSAJ Liaison to WSBA BOG, 2003-2009
Member of Board of Judicial Administration, ex-officio, 2010-2011
King County Bar Association
Past member, Judicial Screening Committee for Superior and Appellate Courts
Past chair, Judicial Screening Committee for District and Municipal Courts
East King County Bar Association
Secretary of Board of Trustees, 1988-1991
Vice-President, 1991-1992
President, 1992-1993
Washington State Association for Justice (formerly Washington State Trial Lawyers Association)
President, 2002-2003
President-elect, 2001-2002
Immediate past-president, 2003-2004
Judicial Liaison Planning Committee, 1988-1990
Chair, East King County Roundtable, 1990-1991
Member, Board of Governors, 1991-1994; 1996-2009
Chair, History Committee, 1991-1992
Public Affairs Committee, 1991-1992; 1997-2002
Development Committee, 1992-1994; 1996-2009
Long Rang Planning Committee, 1993-1994; 2001-2002
Long Range Planning Task Force, 2002-2004
Diversity Task Force, 1996-1997; 2001-2002 (Chair); 2008-2009
Building Purchase Committee, 1996-1997
Legislative Steering Committee, 1996-2009

Second vice-president, 1997-1999
Vice-president, 1999-2000

Executive Committee, 1999-2000; 2001-2004
Judicial Relations Committee, 2000-2002

Vice-president, 2000-2001

Nominations Committee, 2001-2005 (Chair, 2001-2002)
Membership Committee, 2001-2002
Amicus Committee, 2001-2002
Awards Committee, 2001-2003
Finance Committee, 2002-2003
CR 35 Task Force, 2002-2003
Law Day Committee, 2003-2004
WSBA Liaison, 2003-2009
Board of Governors-Past Presidents' Counsel, 2004-2009
List Serve Task Force (Chair), 2004-2005
American Association for Justice (formerly ATLA)
Presidents' Council, 2001-2004
National Conference of Bar Presidents
Member of Executive Council, 2011-2014
Member of Diversity, Sponsorship and Program Committees
Community & Volunteer Activities
Washington State Supreme Court
Member, Project 2001
Member, Portability Committee, 2001
Member, Court Funding Task Force Steering Committee, 2002
Washington State Bar Foundation
Member, Board of Trustees, 2008-2009, 2011-2014
Vice-president, 2012-2014
Eastside Legal Assistant Program
Clinic Volunteer, 1989-present
King County Bar Association Eastside Legal Clinic
Clinic Volunteer, 1980's-present
Lake Washington Technical College Legal Secretary Advisory Committee
Member and Chair, approx. 1988-2009
Cherry Crest PTA
Legislative Chair, 1995-1999
Bellevue PTSA Council
Co-Legislative Chair, 1996-1997
Publications/Presentations
Articles
New WSTLA Committee Helps Judges and Juries, Washington State Trial Lawyers' Association Trial News, February 1, 2001

WSTLA President Sets Priorities for 2002-2003, Washington State Trial Lawyers' Association Trial News, September 1, 200

A Voyage to Atlanta, Washington State Trial Lawyers' Association Trial News, October 1, 2002

So You Think You Want to be President?, Washington State Trial Lawyers' Association Trial News, November 1, 2002

We Need You, Washington State Trial Lawyers' Association Trial News, December 1, 2002

The Sky is Falling, The Sky is Falling—No, it really is!, Washington State Trial Lawyers' Association Trial News, January 1, 2003

Why Does President Bush Hate Me?, Washington State Trial Lawyers' Association Trial News, February 1, 2003

Lessons from the World of Dance, Washington State Trial Lawyers' Association Trial News, March 1, 2003

It's Time to Trade-in My Rose-Colored Glasses, Washington State Trial Lawyers' Association Trial News, April 1, 2003

An Anatomy of Your President's Trial, Washington State Trial Lawyers' Association Trial News, May 1, 2003

Special Presidential Award for Johnnie L. Cochran, Jr., Washington State Trial Lawyers' Association Trial News, June 1, 2003

A Year to Remember, Washington State Trial Lawyers' Association Trial News, July 1, 2003

WSTLA Loses a Quiet Warrior, Washington State Trial Lawyers' Association Trial News, September 1, 2004

The EAGLE Program: Panacea for Sole Practitioners and Small Firms, Washington State Trial Lawyers' Association Trial News, September 1, 2006
Presentations
CLE Seminar Speaker, The Settlement Team: Utilizing Paralegals to Package & Negotiate Settlements, Washington State Trial Lawyers' Association Seminar, 1992

CLE Seminar Speaker, Attorney Malpractice: If You Pet the Files a Lot, They Won't Bite You, Washington State Trial Lawyers' Association Seminar, 1992

CLE Seminar Speaker, Handling the Small to Medium Case, Cost Effectively, 1993

CLE Seminar Speaker, Developing Your Auto Practice in the Small Office, Washington State Trial Lawyers' Association Seminar, 1994

CLE Seminar Speaker, Developing Your Auto Practice, Washington State Trial Lawyers' Association Seminar, 1996

CLE Seminar Speaker, How to Handle Smaller Dollar Value Cases Economically, but Effectively, 1997

CLE Seminar Speaker, Case Evaluation: Separating the Wheat From the Chafe, 1999

CLE Seminar Speaker, How to Hammer Allstate: Handling the Professor Tencers of the World, Washington State Trial Lawyers' Association Seminar, Washington, 1999

CLE Seminar Speaker, How to Hammer Allstate: Handling the Professor Tencers of the World, Washington State Trial Lawyers' Association Seminar, Alaska, 2000

CLE Seminar Speaker, How to Hammer Allstate: Handling the Professor Tencers of the World, Washington State Trial Lawyers' Association Seminar, Idaho, 2000

CLE Seminar Speaker, Motions to Exclude Photographs of Low Impact Collisions, Washington State Trial Lawyers' Association Seminar, 2002

CLE Seminar Speaker, Motions to Exclude Photographs of Low Impact Collisions, Washington State Trial Lawyers' Association Seminar, 2003

CLE Seminar Speaker, Dynamic Arbitration Pre-hearing Statements of Proof, Washington State Trial Lawyers' Association Seminar, 2005

CLE Seminar Speaker, Inexpensive Alternatives for Settling Cases, Washington State Trial Lawyers' Association Seminar, 2006
Washington State Bar Articles
The Unending Journey
Taking the High Road
The WSBA Leadership Institute
Wisdom
Does It Take a Natural Disaster
What Makes a Leader
Tragedy in Arizona: Who's Accountable?
The 24-Hour Rule
50 Years and Counting
The Monkey and the Moldy Peanuts
My Six-Year High School Career
Serving with Soul